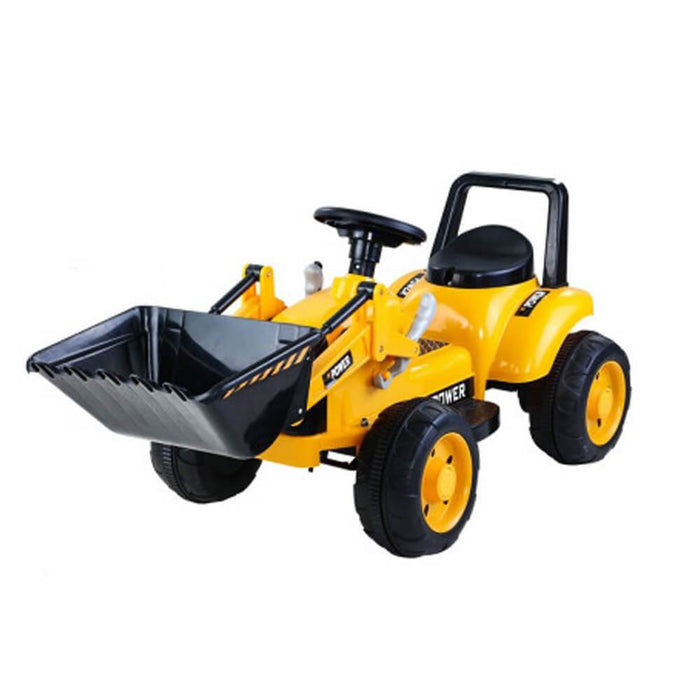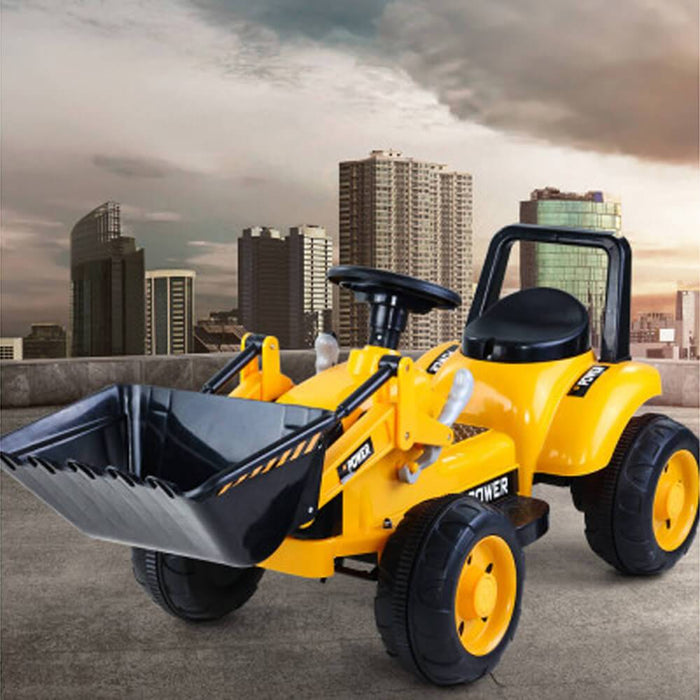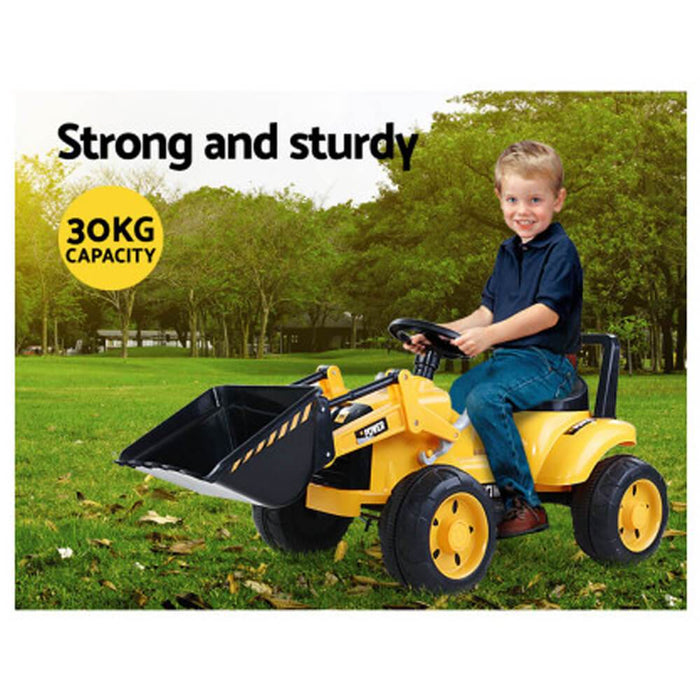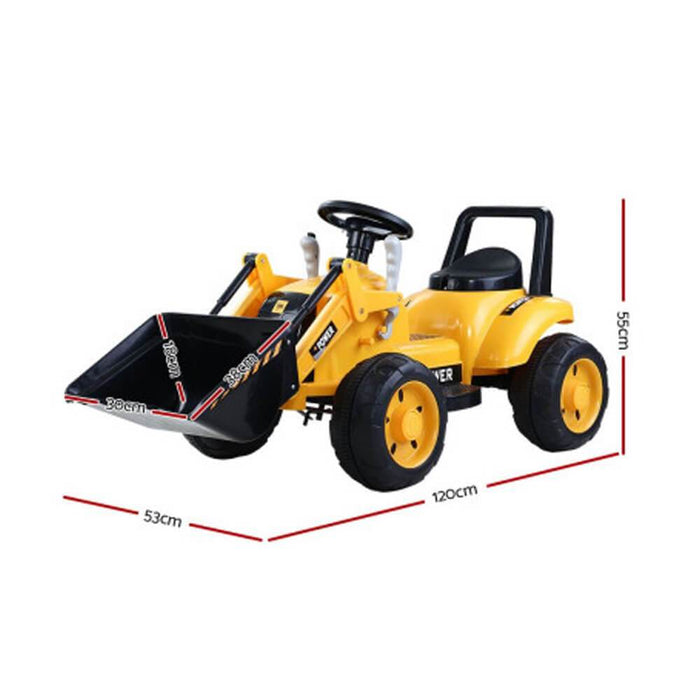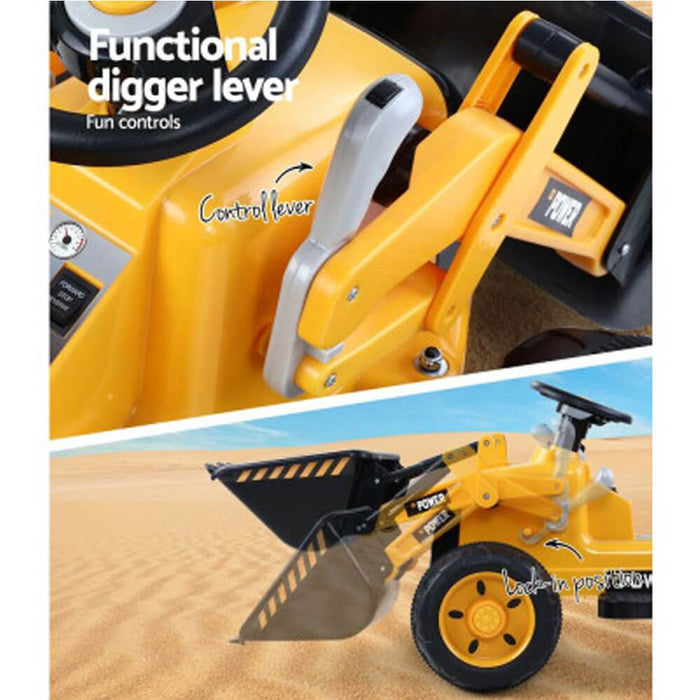 Kids Electric 6v Bulldozer Toy Truck Ride On Car
✓ Fast Shipping + Order Tracking
✓ Questions? Call Us: 1300 79 42 40
Electric 6v Powered Yellow & Black Bulldozer Tractor Ride-On with Fully Controllable Bucket
Perfect for a bulldozing time in the backyard, this electric ride-on bulldozer is heaps of fun for your child who simply loves things mechanical.
Let your child experience the battery-operated version first before the real thing two decades or so down the road. Sitting on a strong seat with an anti-slip surface and a roll bar that acts as a high backrest and a convenient handle when moving the vehicle, your child can use the functional bucket lever to push, scoop or dig sand and gravel with delightful realism.
Just like the real deal, there is a foot pedal to control speed and forward/reverse switch to control direction. The large non-slip wheels with stylish chrome-looking alloys give the ride-on bulldozer ample safety while travelling at a speed of up to 3km/h.
This bulldozer is battery-operated with a rechargeable battery that takes 8 to 12 hours to fully charge and comes with an Australian standard power plug. 
Features
High-quality design cues

Fully controllable bulldozer bucket

Foot accelerator

Forward and reverse motion

Functional digger levers

Spacious seat

Four anti-slip tyres

Suitable for ages 3+

SGS-approved electrical safety

Easy assembly
Specifications
User age: 3 - 6 years old
Max weight capacity: 30kgs
Speed: 2.5-3km/h
Battery: 6V, 7Ah
Power mode: Rechargeable
Gears: Forward and Reverse
Fuse: Self-resetting
Operating time: Up to 2 hours per full
Charging time: 8-12 hours (full charge)
Max user height: 130cm
Power plug: Australian standard
Colour: Black & Yellow

Note:

Please charge the battery upon receipt, even if it is not to be used in the near future.
It is advisable to charge the battery EVERY MONTH if it is not used for prolonged periods. This is to prevent over-discharging of the battery which will cause irreparable damage to it.
Shipping Information
All items ship from within Australia and take approximately 2-10 business days to arrive depending on your location. Read more...
Further Information
This item is covered by the Kids Car Sales Guarantee. See full details here.
Minor scratches and minor blemishes may be visible.
Electric ride ons work well on tiles, concrete and all hard and flat surfaces. All goods are not suitable to use on surfaces like mud, thick grass, steep slopes and sand unless specified. We also discourage pushing the car manually. All these forces too much load on the car and which usually leads to burning the motor.
A fully charged battery should last 1 to 2 hours depending on the age and weight of the child, the number of kids riding and the surface that the car is ridden on.
Note: Colour, tone, finish and style of actual products may differ from those shown in the product images. Props and anything other then the item as described are for demonstration purposes only and do not come with the item.