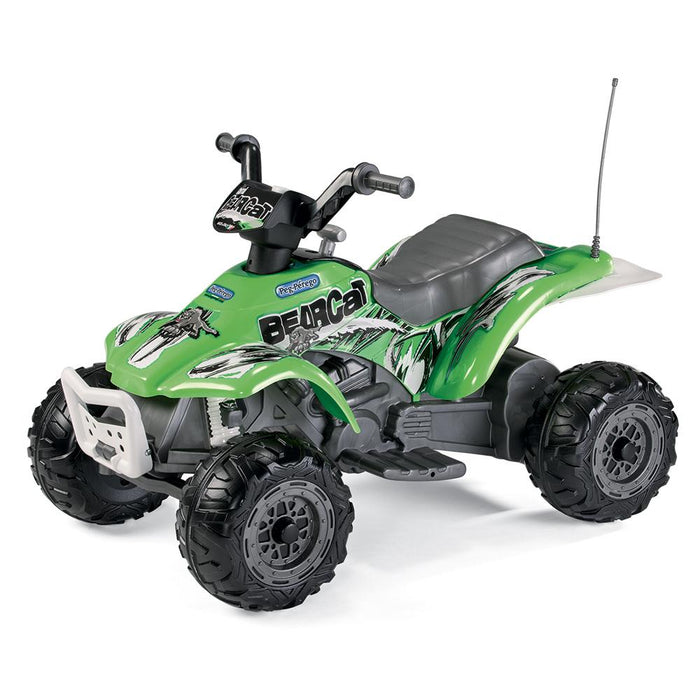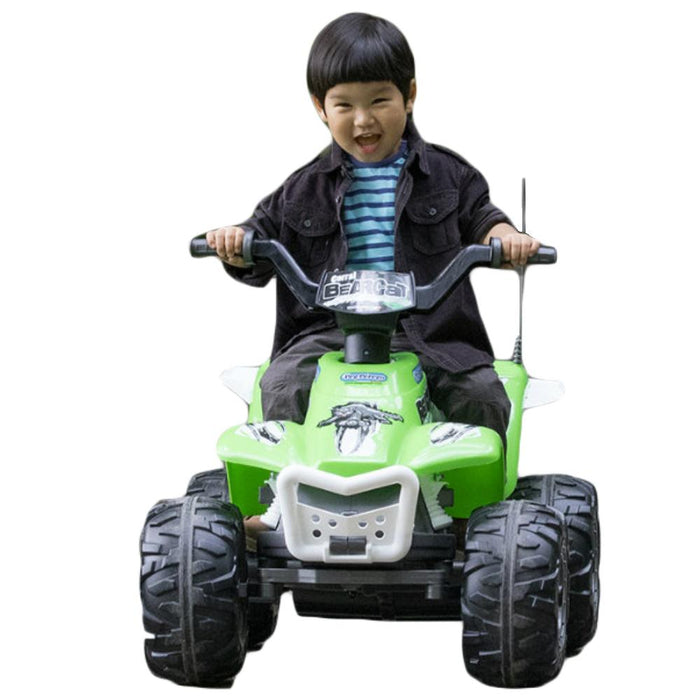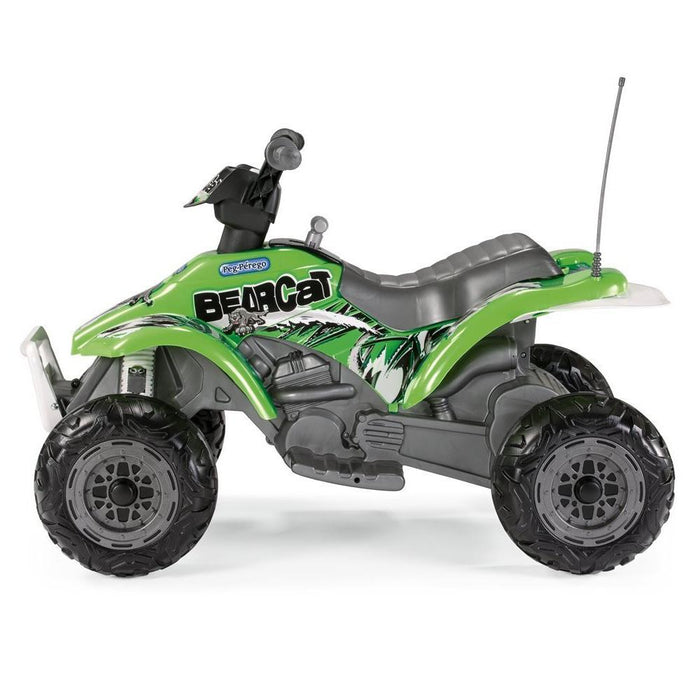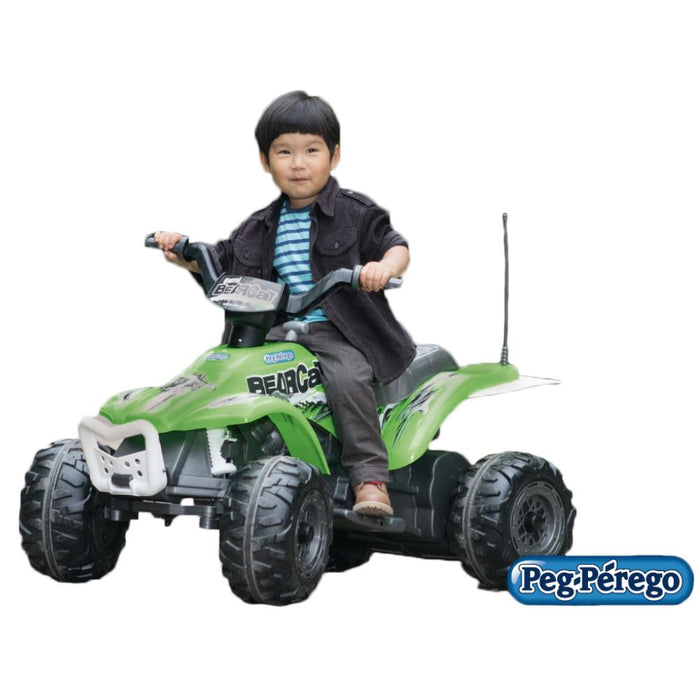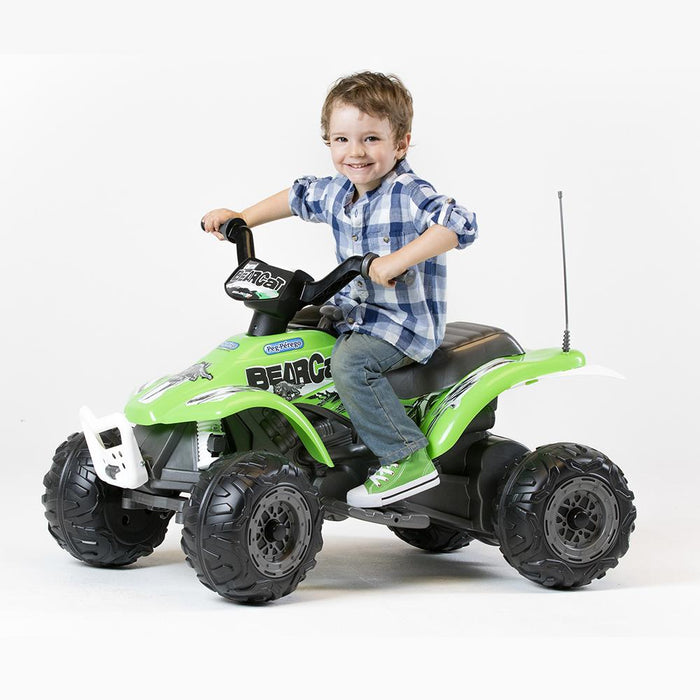 Peg Perego Corral Bearcat Green 6v Ride-On Kids Quad Bike
Save

$53.00
Or make 4 interest-free payments of $133.00 fortnightly with
More info
✓ Fast Shipping + Order Tracking
✓ Questions? Call Us: 1300 79 42 40
Estimated Arrival:
Between and .
Peg Perego Kids Electric Ride On Corral Bearcat Green 6v Ride-On Kids Quad Bike
Your active boy/girl will never tire of riding this kids electric quad bike. Suitable for toddlers ages 2 and up, it will provide them with a thrilling and exciting ride. They'll feel like an adventurer as they manoeuvre through the mud, grass and concrete surfaces.
Its smart and sporty design looks much like an adult ATV. This includes its large, off-road wheels, front bumper, an extra-large seat and wide footrests for comfort along with mudguards to keep the bike clean and scratch-free when riding through mud and gravel. Keeping safety at the forefront of its design, this kids' ride-on bike also features sturdy handles with a non-slip grip along with added wheel traction for a secure ride on or off the road.
The Corral Bearcat Green is suitable for ages 2 and up. It operates via a 6v battery.
Features and Benefits:
Large seat provides for years of fun. 
1-seat vehicle.
6V battery.
Top speed of 3.7 km/h. 
Max Driver weight of 55lbs.
The bike is made of anti-corrosion treated iron. 
Specifications:
Brand: Peg Perego
Model: Corral Bearcat
Colour: Green
No. of Seats: 1
Motor: 50W Electric
Battery: 6V/4.5Ah/25Wh sealed no-maintenance lead-acid battery, included in the package.
Speed Range: 3.7 km/h
Speed Options: Automatic
Gears: Forward and reverse
Maximum Load Capacity: 25 kg
Starting Mode: Start button + accelerator
Safety Features: Comes with a sealed base to protect the driver from electrical wires and tampering, and to protect the vehicle from water, mud and sand. The 6V/4.5Ah battery, located in the compartment under the seat, is protected by a child-proof battery lock.
Operating Time: 70 minutes
Control Mode: Single accelerator+brake pedal
Age Suitability: 2+
Packaging Dimensions  (L x H x W): 54 x 38 x 90
Assembled Dimensions: 99 cm x 61.5 cm x 64 cm
Weight: 11.3 kg
Safety Details
The driving mechanism features Peg Perego's "All in one" technology. Simply put, the accelerator becomes a brake that stops the bike with ease. 
High wheels provide stability when travelling off-terrain.
Your toddler will feel secure with its extra-large footrests.
The 6v rechargeable battery is safely placed under the seat and secured with a childproof lock.
Package Content:
1x Peg Perego Corral Bearcat Green 6v Ride-On Kids Quad Bike
1 x Battery Charger
Shipping Information
All items ship from within Australia and take approximately 2-10 business days to arrive depending on your location. Read more...
Further Information
This item is covered by the Kids Car Sales Guarantee. See full details here.
Minor scratches and minor blemishes may be visible.
Electric ride ons work well on tiles, concrete and all hard and flat surfaces. All goods are not suitable to use on surfaces like mud, thick grass, steep slopes and sand unless specified. We also discourage pushing the car manually. All these forces too much load on the car and which usually leads to burning the motor.
A fully charged battery should last 1 to 2 hours depending on the age and weight of the child, the number of kids riding and the surface that the car is ridden on.
Note: Colour, tone, finish and style of actual products may differ from those shown in the product images. Props and anything other then the item as described are for demonstration purposes only and do not come with the item.