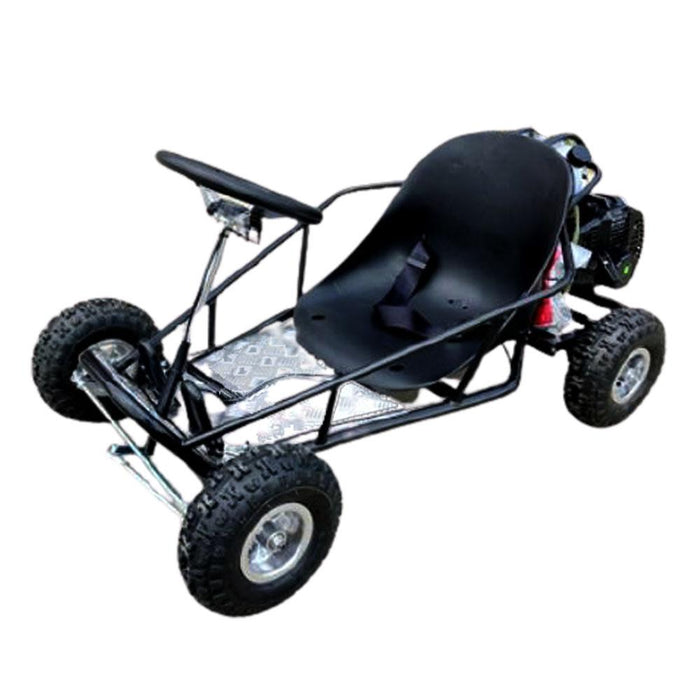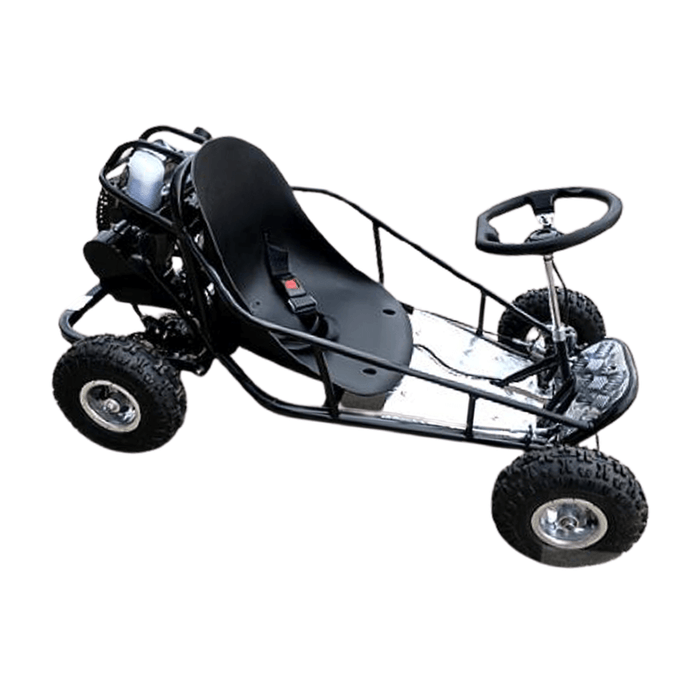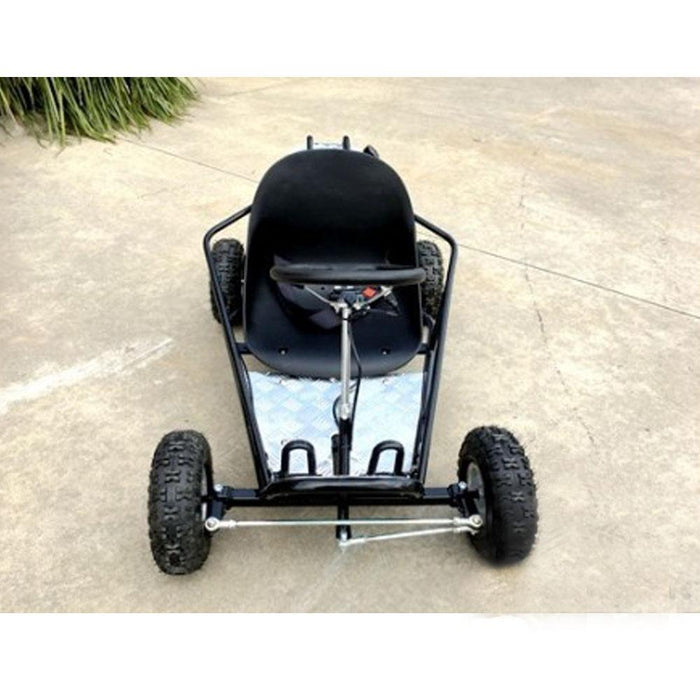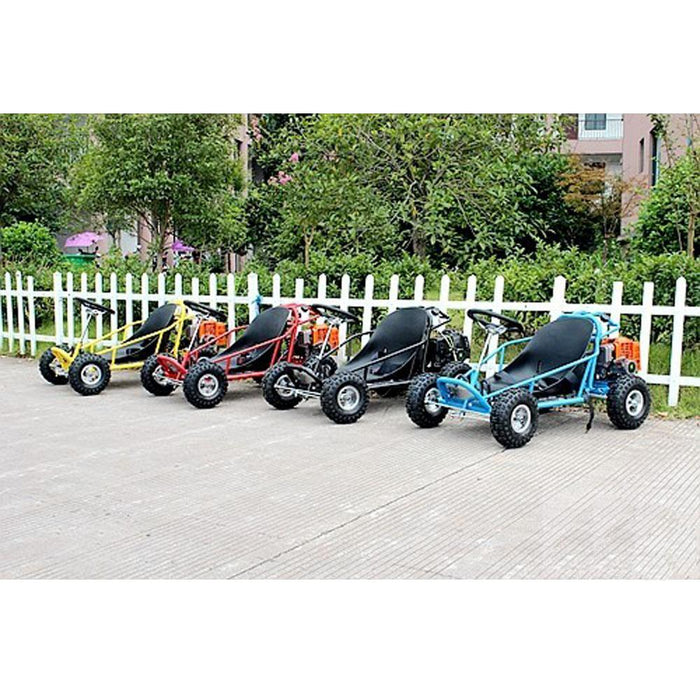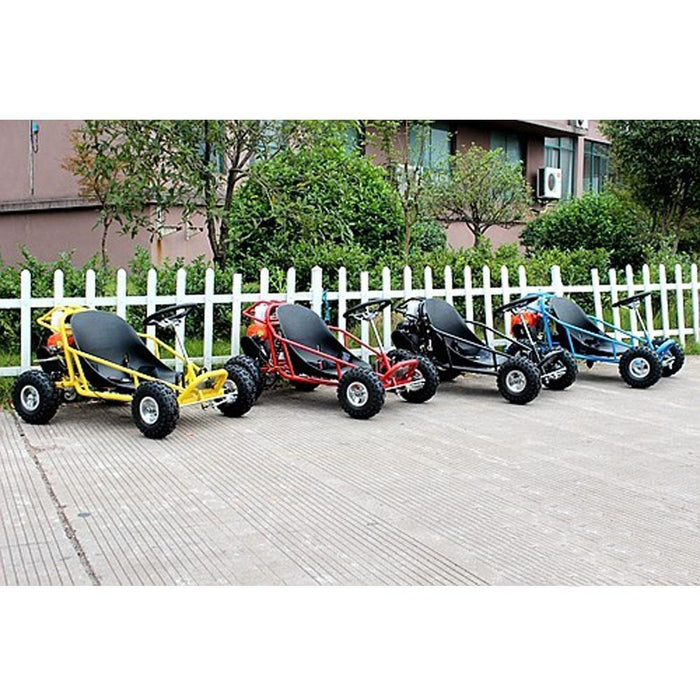 MJM 49cc Automatic 2-Stroke Kids Mini Go Kart - Black
✓ Fast Shipping + Order Tracking
✓ Questions? Call Us: 1300 79 42 40
MJM 49cc Automatic 2-Stroke Kids Mini Go Kart with Kill Switch Powered Steering Wheel 
Bicycles are fun. Trikes are even more, but there's no substitute for a go-kart. Let your child experience the ultimate thrill and joy of riding a pedal go-kart with this mini go-kart from MJM. This mini go-kart is specially designed for kids under 50kgs. It comes with a steering wheel which kids can operate easily.  This kart is supported by a foot-controlled brake/throttle so kids can easily drive or stop the kart. Kids' safety is also considered with it adjustable seatbelt so parents will have peace of mind when their kids sit in and start driving.
The MJM Mini Go Kart has four pneumatic tyres which offer extreme riding comfort and stability, especially on almost every surface.
The kart also features colourful variant options with a steel frame, an ergonomic seat and an adjustable steering wheel. The kart is suitable for kids aged 6 to 8 years and is durable enough to last a lifetime.
Features and Benefits
Aesthetically pleasing colour finish 
Pneumatic knobby tyres offer a smooth and comfortable ride

Ergonomic seat with safety seatbelt and steering wheel with a kill switch
49cc 2 stroke with pull starter

Heavy-duty frame

Foot-controlled brake (rear disc brake)

Foot-controlled throttle
Chain cover

Exhaust cover
Rear suspension/shock
Specifications
Shipping Information
All items ship from within Australia and take approximately 2-10 business days to arrive depending on your location. Read more...
Further Information
This item is covered by the Kids Car Sales Guarantee. See full details here.
Minor scratches and minor blemishes may be visible.
Minor assembly is required.
For safety purposes, it is recommended that you have this bike assembled by a skilled bike mechanic.
For warranty claims, you may need to provide proof of assembly by a skilled mechanic. If not, a report from a small engine mechanic advising the issues should be presented to process your warranty claims
Labour is not covered under warranty. Warranty is a parts replacement warranty and does not cover labour costs.
Defective parts may need to be sent back to us for inspection.
Before using the product, check that all nuts, wiring and bolts are tightened as they can become loose during shipping.
For the first tank, run in the engine, please do not over-rev the engine for the first 1-3 months as the engine is new and should be treated as such.
This item is intended for off-road use only.
Note: Colour, tone, finish and style of actual products may differ from those shown in the product images. Props and anything other then the item as described are for demonstration purposes only and do not come with the item.