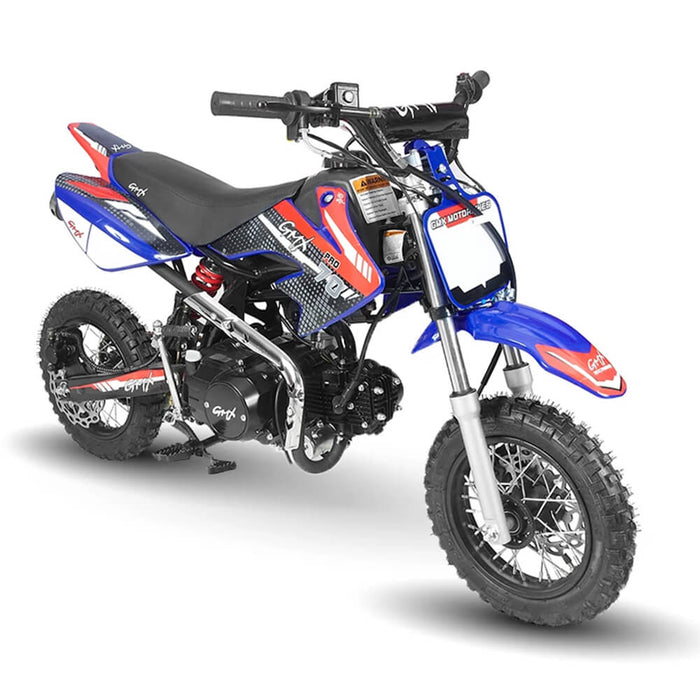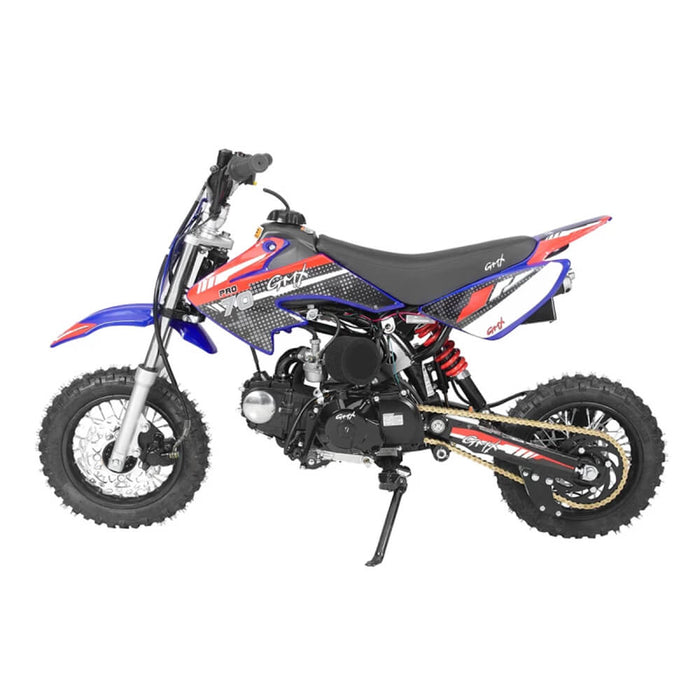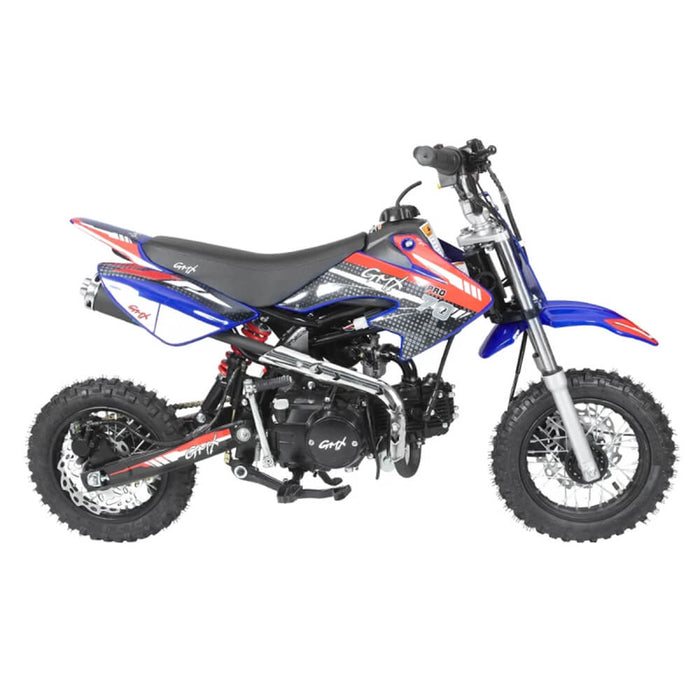 GMX 70cc 4-Stroke Semi-Auto Pro Kids Dirt Bike - Blue
✓ Fast Shipping + Order Tracking
✓ Questions? Call Us: 1300 79 42 40
Estimated Arrival:
Between and .
Experience the Thrill of Off-Road Riding with GMX 70cc 4-Stroke Semi-Auto Pro Kids Dirt Bike
The GMX 70cc Pro Kids Dirt Bike is the perfect off-road vehicle for young riders who are ready to hit the trails and experience the thrill of dirt biking. Powered by a powerful 70cc 4-stroke engine, this dirt bike can reach a speed of 50km/hr. Featuring a sturdy steel frame, front and rear disc brakes for reliable stopping power, and a comfortable padded seat, the GMX 70cc Pro Kids Dirt Bike is built to withstand the rigours of off-road riding

The bike has an adjustable throttle that can help limit the maximum speed for novice riders.  Moreover, the bike has an automatic transmission so the rider does not have to shift gears. With its powerful performance, durable construction, and safety features, this dirt bike offers an exciting and safe riding experience for young riders who are ready to take on the trails.
Features and Benefits
Powerful 70cc 4-stroke engine
Durable steel frame for long-lasting durability
Front and rear disc brakes
Adjustable throttle to limit top speed for safe and controlled riding
Comfortable padded seat for a comfortable riding experience
Automatic transmission for easy gear shifting and control
Electric start system
Chain guard for added safety while riding
Suitable for kids aged 6-11 years old
Specifications
Fuel Tank: Plastic gas box
Tyre: 25 cms
Maximum Speed: 50km/h (depending on terrain and load)
Final Drive: KMC golden chain
Front Fork: 515 mm Upright
Engine Type: 4 stroke, semi-auto
Starting Mode: electric start
Carburetor: JINGKE PZ19 carburetor
Transmission: 70 cc Semi Automatic - N-1-2-3-4
Front Brake: Hydraulic Disc Brake
Rear Brake: Hydraulic Disc Brake
Maximum Load: 70kgs
Rider Capacity: 1 Person
Colour: Blue
Shipping Information
All items ship from within Australia and take approximately 2-10 business days to arrive depending on your location. Read more...
Further Information
This item is covered by the Kids Car Sales Guarantee. See full details here.
Minor scratches and minor blemishes may be visible.
Minor assembly is required.
For safety purposes, it is recommended that you have this bike assembled by a skilled bike mechanic.
For warranty claims, you may need to provide proof of assembly by a skilled mechanic. If not, a report from a small engine mechanic advising the issues should be presented to process your warranty claims
Labour is not covered under warranty. Warranty is a parts replacement warranty and does not cover labour costs.
Defective parts may need to be sent back to us for inspection.
Before using the product, check that all nuts, wiring and bolts are tightened as they can become loose during shipping.
For the first tank, run in the engine, please do not over-rev the engine for the first 1-3 months as the engine is new and should be treated as such.
This item is intended for off-road use only.
Note: Colour, tone, finish and style of actual products may differ from those shown in the product images. Props and anything other then the item as described are for demonstration purposes only and do not come with the item.