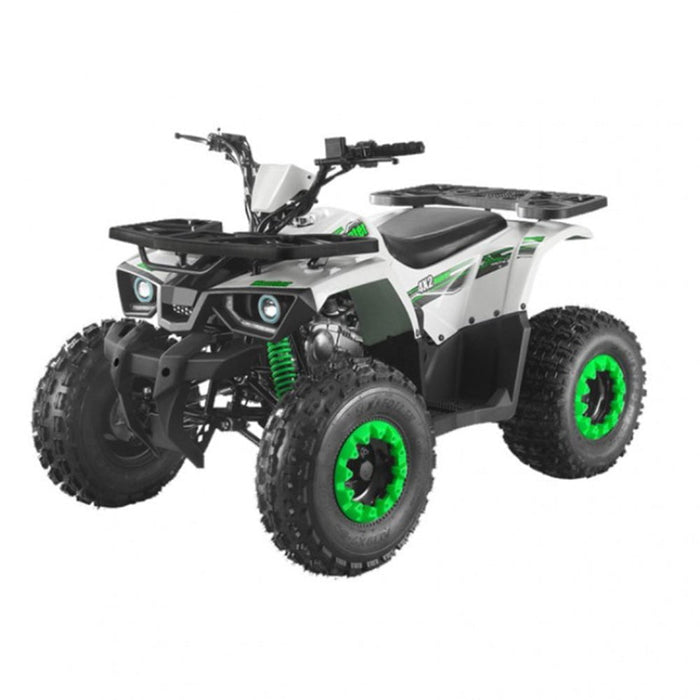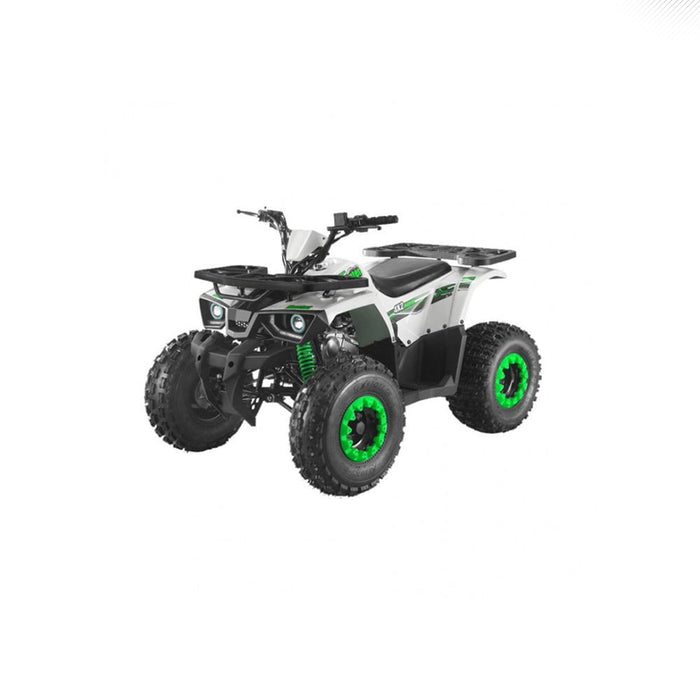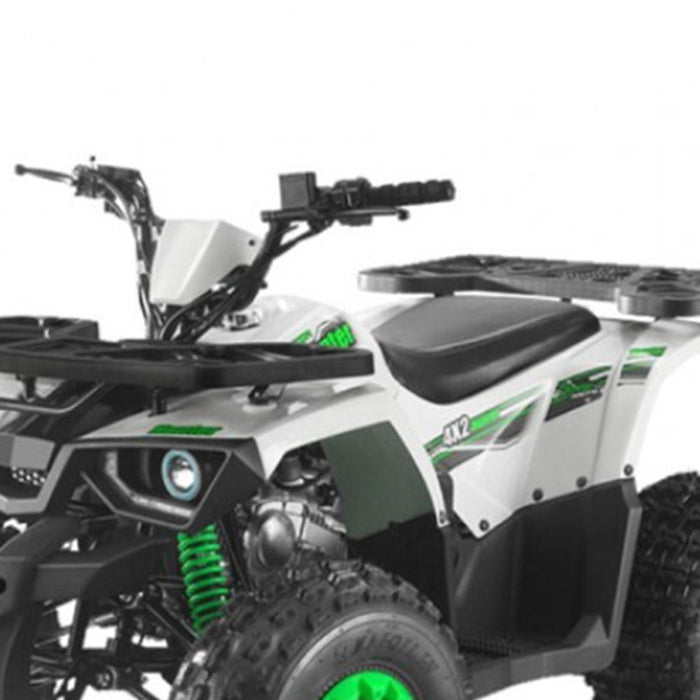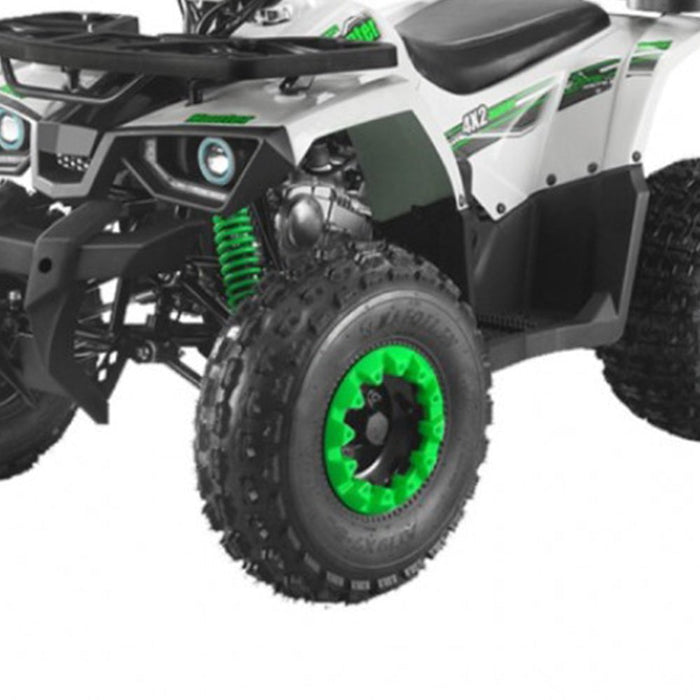 GMX 125cc Hunter Farm Kids Quad Bike - Green
Save

$170.00
✓ Fast Shipping + Order Tracking
✓ Questions? Call Us: 1300 79 42 40
Note: This product is currently out of stock. Contact Us to pre-order now and secure yours when new stock arrives!
Electric Farm Kids Quad Bike With Electric Start And Speed Governor
Whether you use it as a workhorse for your farming needs, or as a ride for leisure or sports, this Hunter kids quad bike will fare well for every application. Designed using high-grade components, this quad bike features a powerful 125cc 4-stroke air-cooled engine that can rush up to speeds of 55km/hr. The four-wheel suspension and large pneumatic tyres offer a smooth and comfortable ride regardless of the terrain. The bike has wide footrests and a frame that covers the legs and protects the rider against any impact.
The bike has a fuel tank of 2.2 litres, and it can cover a distance of 100km on three litres of petrol. Since a 125cc engine in a quad bike makes it suitable for kids and newbies learning the initial stages, you can also add a speed governor to limit the performance. The simple easy start makes things easier, and the controls have been conveniently mounted on the handlebar. Moreover, the front and rear have one rack each to carry some extra luggage.
Features and Benefits
125cc 4-stroke quad bike for sports or farming
Reaches speeds up to 55km/hr
Four-wheel suspension with pneumatic tyres
Can be equipped with a speed governor
Forward, neutral, and reverse transmission
Electric start with starting time under 15 seconds
Racks on rear and front for strapping luggage
Comes 90% assembled
Specifications
Type: Hunter
Model: 120cc, Air cooled, 4-stroke,1-cylinder
Fuel Consumption: 3.0L/100Km
Maximum Speed 55km/h
Seat Height: 670mm
Battery: 12V/4Ah
Front Suspension: Independent double swing arm
Rear Suspension: Single swing arm
Front Tyre: 19×7-8 radial
Rear Tyre: 18×9.5-8 radial
Wheelbase: 970mm
Ground Clearance: 100mm
Fuel Capacity: 2.2L
Dry Weight: 120kg
Starting Mode: Electric start, staring time ≤15s
Brake Distance: 30km/h≤7m
Transmission: F-N-R
Front Brake: Drum
Rear Brake: Ventilated Hydraulic disc
Maximum Power: 5.3kw/7500r/min
Maximum Torque: 8.0Nm/6500r/min
Maximum Load: 90kg
Rider Capacity: 1 Person
Colour: Green

Package Dimensions (L x W x H): 140cm x 77cm x 62cm
Assembly: 

Products are up to 90% assembled. Minor assembly is required and in the interest of safety, it is recommended that you have the quad bike assembled by a qualified, skilled small engine mechanic.
Shipping Information
All items ship from within Australia and take approximately 2-10 business days to arrive depending on your location. Read more...
Further Information
This item is covered by the Kids Car Sales Guarantee. See full details here.
Minor scratches and minor blemishes may be visible.
Minor assembly is required.
For safety purposes, it is recommended that you have this bike assembled by a skilled bike mechanic.
For warranty claims, you may need to provide proof of assembly by a skilled mechanic. If not, a report from a small engine mechanic advising the issues should be presented to process your warranty claims
Labour is not covered under warranty. Warranty is a parts replacement warranty and does not cover labour costs.
Defective parts may need to be sent back to us for inspection.
Before using the product, check that all nuts, wiring and bolts are tightened as they can become loose during shipping.
For the first tank, run in the engine, please do not over-rev the engine for the first 1-3 months as the engine is new and should be treated as such.
This item is intended for off-road use only.
Quad Bike Safety
WARNING: Risk of rollover
Every year quad bikes are a major cause of death and serious injury in rural workplaces with many incidents associated with rollovers. The risk of a rollover increases if the quad bike is crossing slopes, travelling at high speed, towing an attachment, travelling over rocky or uneven ground or carrying a heavy or unstable load.
General Safety Tips:
Choose the right vehicle for the right task.
The riders must be trained and physically able to control the vehicle
Always Wear a Helmet
Never Carry a Passenger
Take Time to Learn and Practice
Be Alert for off-road hazards
Ride within your limits
Don't' Drink and Ride
Note: Colour, tone, finish and style of actual products may differ from those shown in the product images. Props and anything other then the item as described are for demonstration purposes only and do not come with the item.