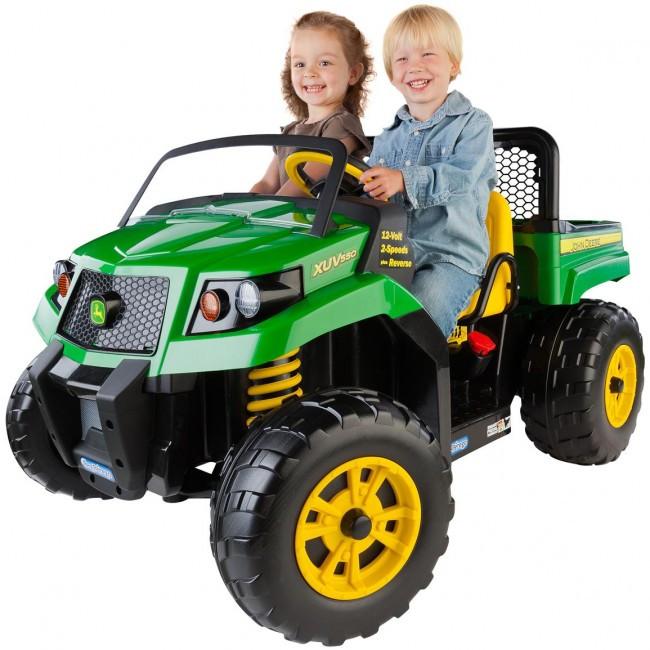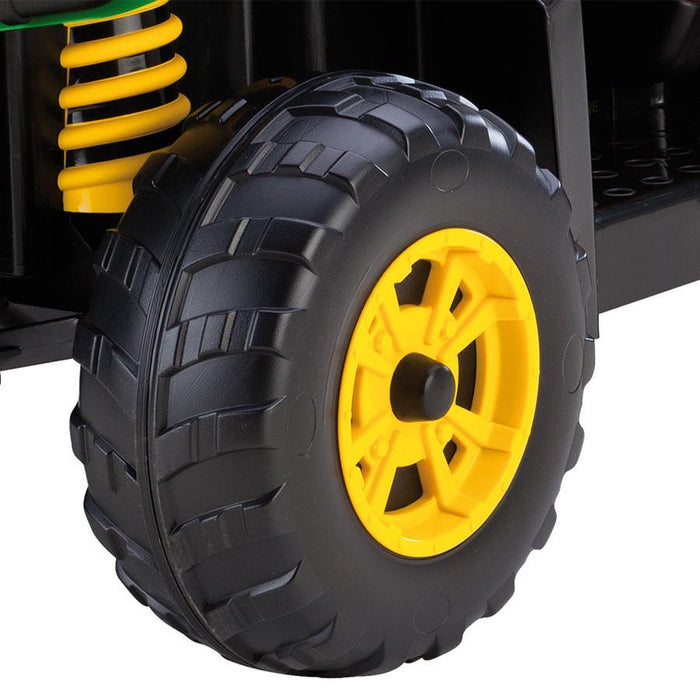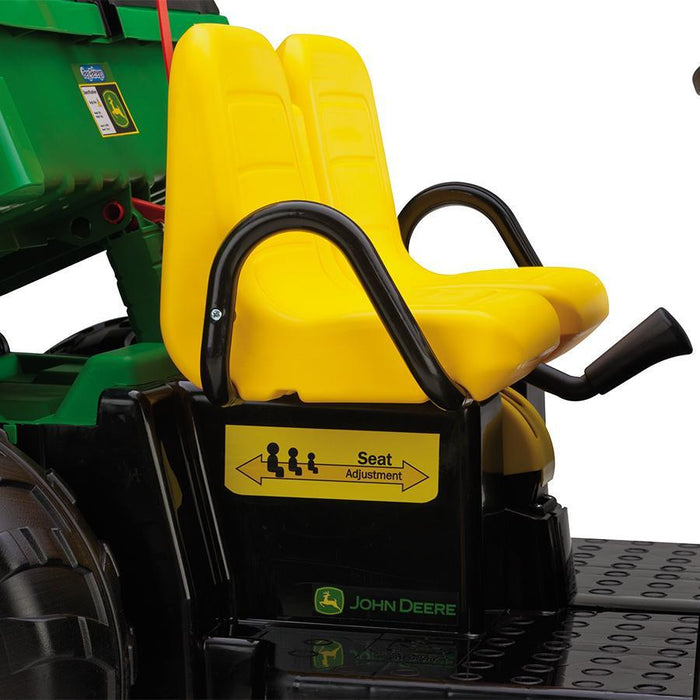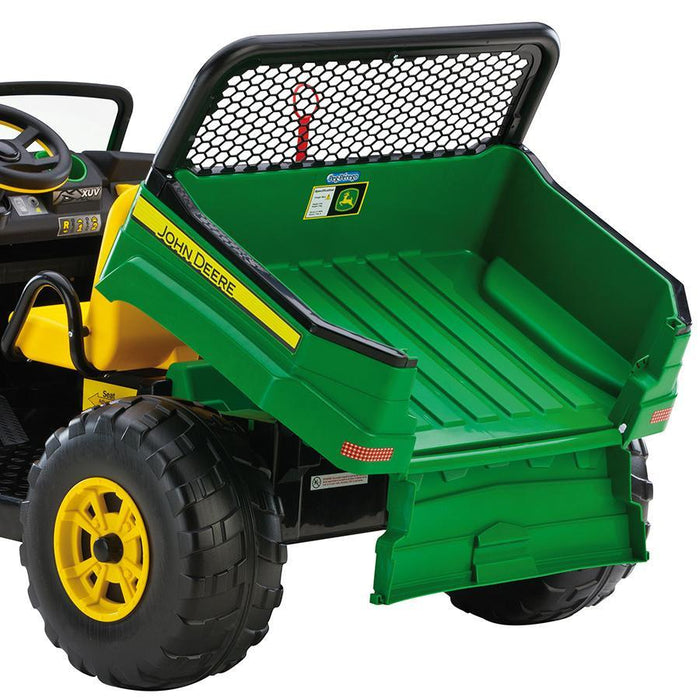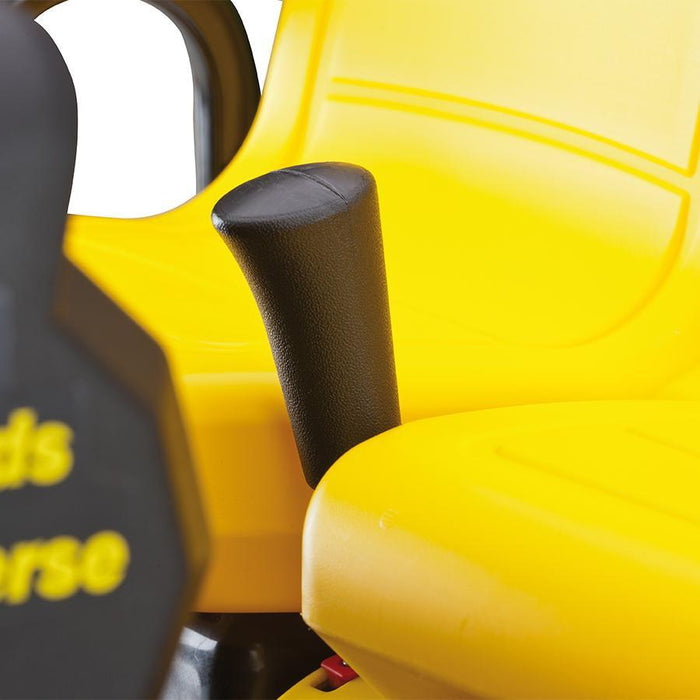 John Deere XUV 550 12V Kids Ride On Gator
Save

$145.00
✓ Fast Shipping + Order Tracking
✓ Pickup In-Store Available
✓ Questions? Call Us: 1300 79 42 40
Estimated Arrival:
Between and .
John Deere XUV 550 12V Kids Ride On Gator
Your little farmer or gardener will be thrilled to ride around the yard on this John Deere play tractor.
A replica of the John Deere XUV550 Gator, it offers a number of realistic details such as its opening tailgate and extra-large dump bed for hauling everything from leaves to your kid's favourite stuffed animal collection.
An electric, toy utility vehicle, it features SmartPedal technology for an extended battery life and a smooth ride on gravel, grass or concrete. For added safety, it is also equipped with automatic brakes. Suitable for ages 3 and up, it has adjustable seats so that it will grow with your child.
Features
Working Dump Bed
An extra-large dump bed with a working tailgate let's children haul whatever they need around the yard -- whether it is mulch for the garden or toys. The dump bed has a pulley mechanism, which makes it easy to dump contents.
Room to Grow
Young drivers (and parents) will love the adjustable seats of the John Deere Gator XUV, which keeps growing legs comfortable. The super traction wheels lets kids travel over grass, dirt, asphalt and other terrains.
Safety Details
The quality of Peg Perego products is reflected in the details that guarantee safety. John Deere Gator features a sealed base to protect the driver from electric wires and tampering and to protect the vehicle from water, mud and sand. The 12V/8Ah battery is located in the unit under the bonnet and is protected by a child-proof battery lock. The battery can be recharged using a household electrical socket, either whilst it is in the vehicle or after removal. Comes equipped with battery charger and battery. 
Technical Specifications
| | |
| --- | --- |
| Why choose it | It is suitable for all, a little off-road, a little agricultural. Your child can play at helping you in the garden or take off into the woods. John Deere Gator is unbeatable in every situation. |
| Type | Tractor. |
| Main features | Spacious, seats 2, a large rear loading body to house all you need, high traction wheels. |
| Colour range | - |
| Accessories | Trailer |
| Additional information | Drink container. Large windshield Rear load body |
| Suitable from/to | 3+ |
| Number of seats | 2 |
| Number of gears | 2+R |
| Number of wheels | 4 |
| Traction wheels | 2 |
| Engines | 2 x 175W (350W total). |
| Battery/Power | 1 x 12V/12 Ah no-maintenance sealed lead acid battery, included in the packaging. |
| Battery charger | 1 x 12V battery charger included in the packaging. |
| Alkaline batteries | 3 LR44 1.5V button cell batteries (supplied). |
| Ideal surfaces | Great performance even on hills and uneven terrain. |
| Slope capacity | 17% |
| Wheels | Grooved tread |
| Accelerator | Pedal |
| Brake | "All in one" with accelerator pedal/electric brake. |
| Steering wheel | - |
| Radio command frequency | - |
| FM radio with MP3 connector | - |
| FM radio | - |
| Lights and sounds | Horn. |
| Safety belts | - |
| Suspension | - |
| Kick-stand | - |
| Stabiliser wheels | - |
| Glove compartments | Yes |
| Rear load body | Yes |
| Trailer | Optional |
| Sealed base | Yes |
| Duration of battery*1 | 37 min |
| Speed in 1st gear | 3,6 km/h |
| Speed in 2nd gear | 7.2 km/h |
| Speed in reverse | 3,6 km/h |
| Size | 89.5 x 131 x 65.5h cm - 35 1/6" x 51 1/2" x 27 1/6" h. |
| Weight | 24,5 Kg |
| Maximum transportable weight *2 | 59kg (total for 2 riders) |
| Dimensions | 63.5cm H x 86.5cm W x 114.5cm L  |
| Construction material | Anti-corrosion treated iron. PP polypropylene. PA polyamide. High-density PEHD. |
| Compliance | Complies with European Safety Regulation for Toys (safety prerequisite set by EEC Commission) and with "U.S. Consumer Toy Safety Specification". They are also certified by toy safety authorities under 2009/48/EC directive. They do not comply with regulations for travel on roads and cannot be used on public roads. |
| Identification code | IGOD0063 |
| Regulation | General Directive for Toy Safety 2009/48/EC EN 71 / 1 -2 -3 Regulation EN62115 Regulation |
| Electromagnetic Compliance Directive | 2004/108/EC EN55022 - EN55014 - EN61000 Regulations |
| R&TTE Directive | - |
| RAEE European Directive | 2003/108/CE |
| RoHS European Directive | 2011/65/EU |
| Phthalates Directive | 2005/84/CE |
One-year limited warranty for Peg Perego vehicles from date of purchase, and/or six-month limited warranty for battery, charger and wheels from date of purchase.
This warranty covers normal use and does not cover the vehicle or the battery if it has been damaged by unreasonable use, neglect, accident, abuse, misuse, improper service, modification and/or other causes not arising from defects in materials or workmanship.
Shipping Information
All items ship from within Australia and take approximately 2-10 business days to arrive depending on your location. Read more...
Further Information
This item is covered by the Kids Car Sales Guarantee. See full details here.
Minor scratches and minor blemishes may be visible.
Electric ride ons work well on tiles, concrete and all hard and flat surfaces. All goods are not suitable to use on surfaces like mud, thick grass, steep slopes and sand unless specified. We also discourage pushing the car manually. All these forces too much load on the car and which usually leads to burning the motor.
A fully charged battery should last 1 to 2 hours depending on the age and weight of the child, the number of kids riding and the surface that the car is ridden on.
Note: Colour, tone, finish and style of actual products may differ from those shown in the product images. Props and anything other then the item as described are for demonstration purposes only and do not come with the item.