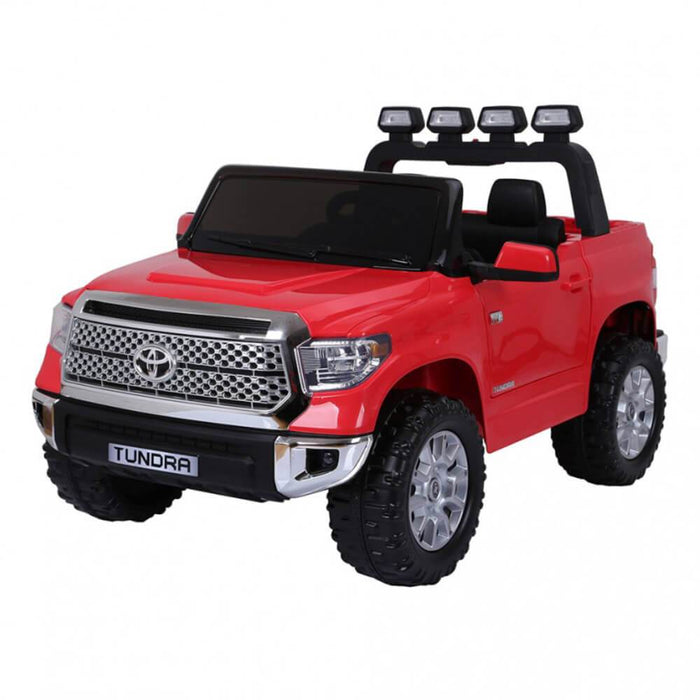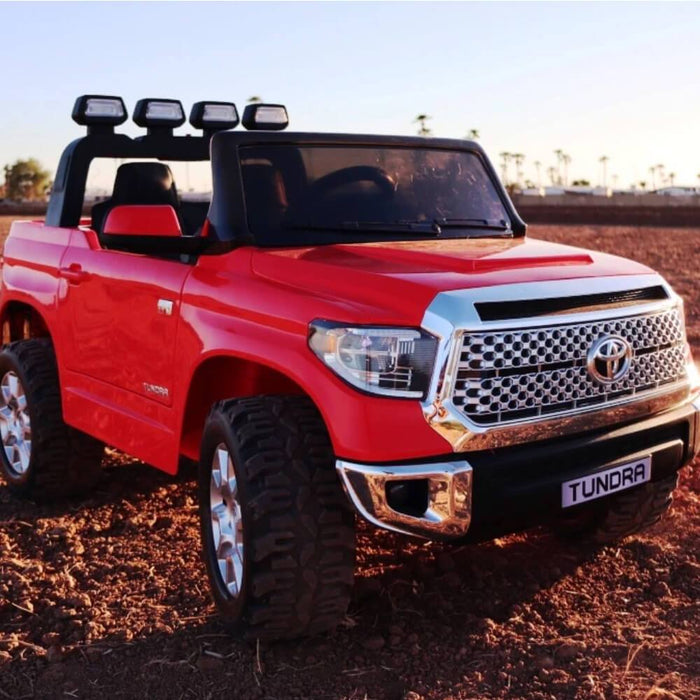 Go SKitz Toyota Tundra 12V Electric Kids Ride On - Red
✓ Fast Shipping + Order Tracking
✓ Questions? Call Us: 1300 79 42 40
Toyota Tundra replica kids ride-on with sound control, media support and functional doors
This Toyota Tundra replica is as close as a kids ride-on can get to the realistic SUV.
It features an on/off switch and a two-speed operation with forward and reverses direction control. The improvement dashboard features USB/MPC/TF card socket to support media devices. The ride-on has fully functional doors for easy access and front/back LED lights for more joyous riding experience. The ride-on also has a sound control mounted steering wheel and a power indicator on the dashboard for tracking battery levels.
The ride-on has two comfortable seats with belts for additional safety. It can also be remotely controlled using a Bluetooth 2.4G remote control for parental supervision. The back shock suspension wheels ensure a comfortable ride on almost every terrain.
Features and Benefits
On/Off power switch for easy operation
Forward and reverse movement with two speeds
Dashboard with support for different media devices
Front and back LED light plus rear frame light
Functional doors and sound in the steering wheel
Comfortable seats with seat belt
Features Bluetooth remote for parental supervision
Back shock suspension for a smooth ride
Specifications
Warranty Claims & Returns Policy Download
Shipping Information
All items ship from within Australia and take approximately 2-10 business days to arrive depending on your location. Read more...
Further Information
This item is covered by the Kids Car Sales Guarantee. See full details here.
Minor scratches and minor blemishes may be visible.
Electric ride ons work well on tiles, concrete and all hard and flat surfaces. All goods are not suitable to use on surfaces like mud, thick grass, steep slopes and sand unless specified. We also discourage pushing the car manually. All these forces too much load on the car and which usually leads to burning the motor.
A fully charged battery should last 1 to 2 hours depending on the age and weight of the child, the number of kids riding and the surface that the car is ridden on.
Note: Colour, tone, finish and style of actual products may differ from those shown in the product images. Props and anything other then the item as described are for demonstration purposes only and do not come with the item.